It's Triad Tuesday, where we focus on a local artist. After enjoying the reception for artist Steven Jadwin Hopkins' show at Community Arts Cafe, I followed the sound of the beating drums to the June First Friday Gallery Hop in the Arts District of Downtown Winston-Salem.

The huge popping prints at Artworks Gallery caught my attention and drew me in. I had the pleasure of meeting the insightful woman responsible for the show, Anne Kesler Shields. Shields is an appropriated image installation artist. Her show is entitled "DIPTYCHS: Appropriated Image Installation Inspired by the Reynolda House Collection".
Diptychs, by definition is a work consisting of two painted or carved panels that are hinged together. In this case, Shields has "appropriated" richly-colored art history images from the Reynolda House Collection, photocopied them to massive sizes, coupled them with modern black and white images from pop culture and advertising and applied them directly to the walls.


"Proud" depicts a confident Sharon Stone beside an equally sanguine painting of "John Spooner", painted by John Singleton Copley in 1763. Demonstrating irony, "Peaceable Kingdom of the Branch," by Edward Hicks depicts a vision of man in the 1800's in harmony with nature, is offset by a photograph of the polar bear, a species now endangered by global warming
.
"Kiss": Martin Johnson Heade's "Orchid with Two Hummingbirds"
Although separated by decades and color, Shields' gutsy pairings demonstrate the relationship between the two images. The show contains many erotic images. We are reminded that the themes are not new, but Shield's juxtapositions nudge us to see the old in a new light. This ability to expose human nature through her collages has earned Shields exhibits in places like Long Island University in Brooklyn, NY; the North Carolina Museum of Art, and Hollins University in Virginia, among others.
"You and I probably see more pictures in one day than a person living in the nineteenth century saw in a lifetime!...I attempt to put some order into the visual clutter. By comparing contemporary advertising and news photographs with images from art history, we see that human passions change little through the ages and from one culture to another."
–

Anne Kesler Shields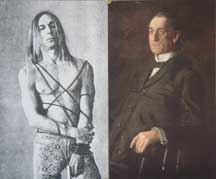 DIPTYCHS: Appropriated Image Installation Inspired by the Reynolda House Collection exhibit is free and open to the public at
Artworks Gallery
.